Cattle Equipment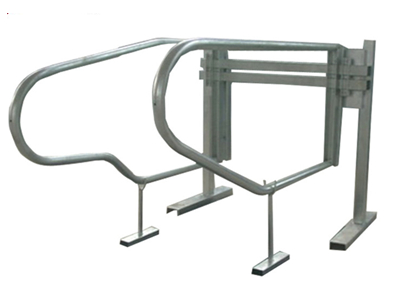 /
Manufactured from 2 3/8" x 10 gauge galvanized tubing
1.9" x 12 gauge neck rail tubing
Standard Features for Free Stalls
· Manufactured from 2 3/8" x 10 gauge galvanized tubing
· 1.9" x 12 gauge neck rail tubing
· 34" opening on head end
· Free Stalls are mounted on posts using 2 stubs welded to 3/8" x 2 1/2" plates
Optional Features for Free Stalls
· Available in 6', 6 1/2', 7', and 7 1/2' lengths
· Adjustable brisket bumper mounts to the stall to hold 3" schedule 40 pvc pipe
· Optional 30" poly sleeve helps to protect against corrosion on bottom tube
· Other styles available for heifers and Jerseys
Characterics
Hot dipped galvanized free stall offer comfortable enviroment for your cows.
1) The free stalls are made of 60.3mm x 3mm tubing.
2) Hot dipped galvanized after manufactured, so they have excellent anticorrosion and antirust properties.
3) Various designs are available.
4) Quick assembly due to simple designs.
5) Clamps are available.
6) Can be made of pre-galvanized tubing according to different requirements
>If you have any suggestions or opinions about our products,please leave a message,and we will immediately answer your questions. Thanks for your support.